Biography
Are you really interested? Oh, OK! Here goes then...
My real name is Mark, although most people know me as Smivs. It is one of those boyhood nicks that just stuck. I am now in my late 50s but I try to keep active and certainly try to stay young-at-heart. My wife and our two young kids help here.
I am not working at the moment and stay at home to look after the children (I'm a Househusband!), but in past lives I've been a Pharmaceutical Technician, Shop Manager, Stage lighting/sound mixer guy, builders' mate and odd-job man, kitchen designer, mobile mechanic and Driving Instructor.
In other words I've never really known what to do, but in practise can do pretty much anything I turn my hand to. Jack of all trades but master of none? Not really, as I think I was actually pretty good at some of these.
I like my food. I'm a veggie and try to eat well, although I do have a soft spot for chocolate, and I love Curries, or to be more precise, Indian food of the authentic variety. I cook too, quite well I like to think.
I am a bit of a sci-fi nut - everything from Dr Who to Battlestar Galactica. I have always loved Sci-Fi but first got into it seriously at college where I was introduced to Asimov's 'Foundation Trilogy'.
Best ever T.V sci-fi? Got to be "Babylon 5" hasn't it, a complete cycle over five seasons...what a classic.
My nominee for "Best Film" would probably be...actually this is a tricky one....Bladerunner stands out, but having watched Fifth Element and The Chronicles of Riddick many times through choice, I guess I like these too. And of course the 'Alien' films are pretty awesome, but are they Sci-fi or Horror? Also 2001-A space odyssey must get a mention, as it is a truly iconic movie.
And who can love sci-fi and not appreciate the various incarnations of Star Trek.
As for novels, my tip would probably be Larry Niven's Ringworld. What a concept! How come it's never been made into a movie?
And for sheer fun value, Harry Harrison is unbeatable. His 'Stainless Steel Rat' series is brilliant.
I suppose my liking of sci-fi naturally leads to a liking of space, and you can find a selection of images on my space pictures page. These are images I've collected from the internet over the year, simply because I liked them.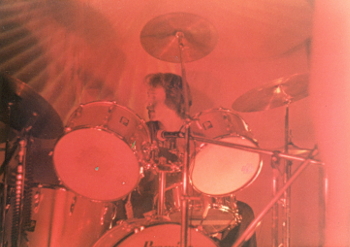 I've always loved music. It's in my blood as both my parents were musical. My Dad ran a dance band for many years and my Mum used to sing. Both sadly are now doing the Big Gig in the sky.
I like Jazz, Rock, Funk... all the usual things a old geezer who grew up in the late sixties and early seventies should like.
I used to play Drums in a few rock and boogie bands (see right) back in the day, but haven't for a while now.
I like most types of music really, although I'm not a big fan of Opera or Country and Western.
I'm a bit of a Nerd and I spend a lot of time on my computer which runs Linux Mint (v17.1 at the moment).
I do a bit of HTML/CSS more as a hobby than anything as you can see from this website - no WYSIWYG or CMS here, it's all hand made!
When I'm not doing anything productive, I spend a little bit (a lot!) of time on my favourite computer game 'Oolite' which is a modern re-imagining of the classic Elite.
Oolite is open-source and expandable, and I have created several OXPs (Oolite eXpansion Packs) to enhance the game. These are very popular, and making and maintaining them takes a lot of my spare time. You can find details of these on my Oolite page.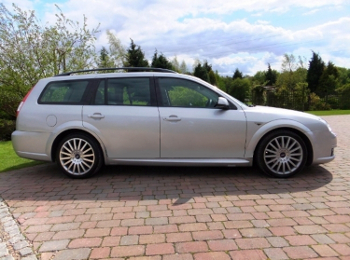 I like cars a lot and have owned a modified '82 Ford Capri 2.8i called "The Beast" for 30 years, but sadly she is currently stored off-road and is awaiting the restoration I can't do right now for practical and financial reasons.
My family car is a Mondeo ST220 Estate (left), which is an excellent car - big and spacious and very comfortable, and despite outwardly being just another big family estate car is suitably fast with near sports-car handling.
People who know me say I have a good (bad!) sense of humour and I like to think I'm quite a funny person.
If you fancy a chuckle, go to my jokes page.
The animals far outnumber the humans in our household!
We have two cats, Bilbo and Missy. Bilbo's about ten now, and a bit mad but really cute. The picture opposite is Bilbo as a kitten. Ahhhh! Missy, who co-incidentally has almost identical markings is about five.
We like keeping fish and have three aquaria, a 'main' community tank in the lounge which at 48x18x18 inches is quite big, and a smaller tank in the bedroon for our platys and guppies (which breed like rabbits!). My daughter has a tank in her room for her own fish.
We've also taken in a Pigeon who just arrived on our doorstep one day minus most of his feathers and his tail, and with a broken wing. He has now recovered but he will never fly properly again, so he has become one of the family and enjoys being pampered in a cage in our lounge. He has a surprisingly good relationship with the cats as well - they really do seem to enjoy each others' company.
Add into the mix an Albino Clawed Frog, Giant African Land Snails (below), Leaf Insects and two species of Stick Insect and you'll get an idea of our 'Zoo'.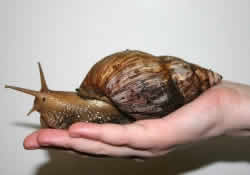 I enjoy sport a lot, paticularly Cricket and Football (sorry yanks, soccer) where I support Everton F C. Watching, not playing though - I'm not that active!
I also enjoy Malt whisky, particularly those from the island of Islay . Ardbeg and Laphroaig are probably amongst the best. Peaty, smokey, gorgeous! The best, though, is Port Ellen, which sadly is no longer operating as a distillary, although the maltings are still used and supply most of the other Islay distillaries. If you get the opportunity to sample a Port Ellen whisky, you will experience true perfection.